The Morecambe Bay Wildlife Network is a group of like-minded organisations that are working together to deliver a 50 year vision that will see the restoration, promotion and enhancement of the network of nature conservation sites surrounding the whole of Morecambe Bay.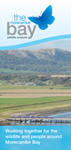 The network has 2 broad aims. The first is to secure the existing network of high nature conservation value sites, expand and develop these sites and to buffer and create links between sites, to maximise bio-diversity. The second is to maintain and develop the economic and social benefits arising from this network of sites.
These sites are an integral part of a fully functioning landscape that contributes to the environmental, cultural, social and economic wellbeing of the area, it's residents and visitors.
-> All weather garden furniture and wildlife
-> Garden furniture sets and wildlife
The Network's focus is the rich natural environment around and related to Morecambe Bay. The area is comprised of a connected mosaic of habitats offering an exceptional extent and range of biodiversity (many of which are of national and international importance), stretching from the estuarine habitats of Morecambe Bay through freshwater wetlands and up onto limestone escarpments.









Photo credits: RSPB images.com, Jim Asher (Butterfly Conservation), Bart Donato and John Osborne (Natural England).

I adore watching birds, but I'm also passionate about maintaining the local ecosystem to help plants and animals thrive.

Latest posts by Sara Johnson (see all)